The rural Washington town of Tenino, like many communities in the Centralia region, has been affected by the decline of the traditional logging and agricultural economy and the impending closure of the Centralia coal plant in 2025. When the state's last coal plant closes within the next seven years, 200 local jobs will disappear. Already, nearly a third of the town's 700 households report income under $25,000.
Facing this inevitable change, Tenino is choosing to prepare current and future energy workers for new opportunities through active participation in the Tenino Innovation and Education through Renewables (TIER) Project.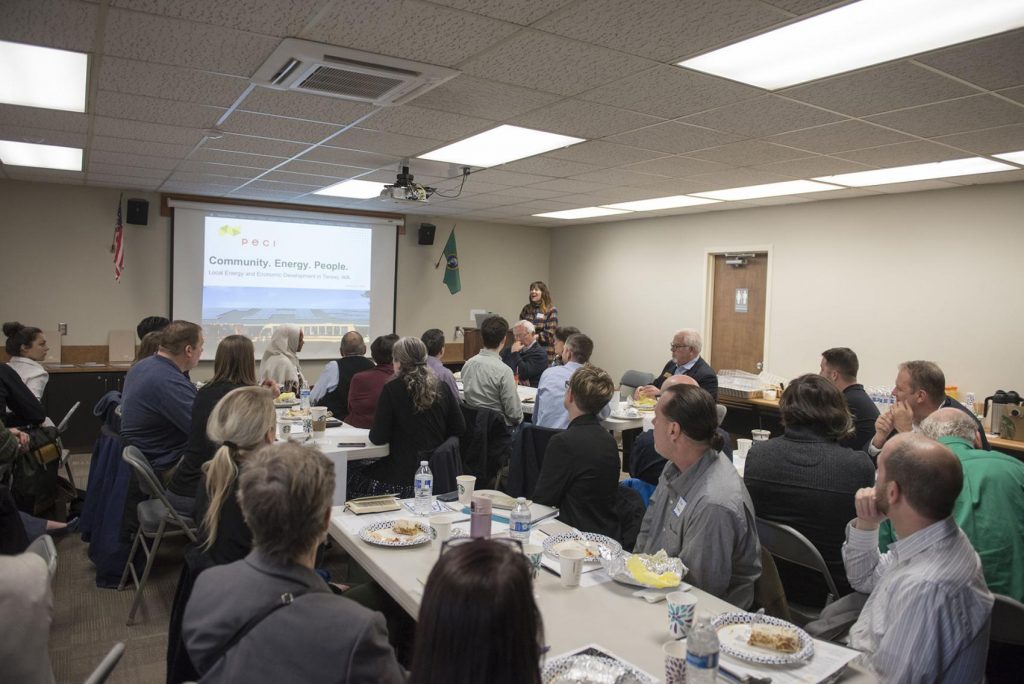 In March 2017, Tanya (on behalf of PECI) began an engagement with Tenino City Councilman David Watterson to facilitate a series of meetings with a wide variety of stakeholders from Thurston and Lewis Counties. The group identified a wide-ranging list of opportunities and a vision for Tenino to host clean energy projects and technologies. In doing so, Tenino can serve as a regional leader by demonstrating how a small town can promote a clean energy future through incubating and hosting clean energy infrastructure, technologies, and workforce training programs.
Throughout the rest of that year, TIER began to take shape as stakeholders continued to discuss feasible energy projects for the region. Tanya facilitated a core group of Tenino residents, who suggested Tenino School District (TSD) as a potential project sponsor given its distinction as the largest employer and a communication hub to families within the region.
With on the ground support and championship from Commissioner Watterson Tanya worked closely with community leaders and helped draft a memorandum of understanding for TIER as a joint undertaking by TSD and the City of Tenino. In March 2018, the City of Tenino and TSD signed a Memorandum of Understanding appointing PECI as the project manager. Tanya selected and led a PECI team who conducted an energy inventory for renewable and smart grid hosting capacity in Tenino and analyzed electrical meter data for the community to assess which projects would be most beneficial.
Tanya moved early stakeholders toward coalescing around a vision, strategies, objectives, and a work plan for the project. TIER is comprised of three distinct, but related project development components. Tanya assembled, facilitated, and brokered partnerships to support and maintain momentum toward staffing, funding, and execution of every component of the project.
Project partners contributing cash and in-kind match are wide ranging and diverse including: regional public and investor owned utilities, Washington State University, the Pacific Northwest National Laboratory, the Pacific Northwest Center of Excellence for Clean Energy, Bonneville Environmental Foundation (BEF), and more than fifty additional community stakeholders, advisors, and experts working in the fields of energy, education, research, vocational training, and local politics.
Spring and summer 2018 were spent developing detailed project timelines, budgets, and branding with feedback from the core group and opportunities for public comment.
In June of 2019, PECI was recognized by the Smart Electric Power Association as Visionary of the Year for the community energy advising model and work with TIER and its partners.
A Model for Community Energy
Tanya built PECI's Community Energy Advising practice to model innovative and collaborative living laboratories such as TIER in order to put communities at the center of energy transformation. She created a methodology and practice around developing projects like TIER as an essential means to prepare youth and citizens to participate fully in a new environment in which power is provided by renewable energy sources. As communities seek to proactively participate in carbon reduction, this learning is essential not just for service providers, but for informed, engaged, and prepared citizens.
The community energy development process Tanya and her team created follows a protocol; however, each community energy project it produces is unique. For example, TIER is comprised of three key and interconnected elements. TIER's three prongs—Grid, Curriculum, and Community—work together to achieve the community stakeholders' goals and objectives.
Grid
A grid modernization demonstration project that allows students and trades to learn from and work with modern, flexible, smart grid infrastructure and technologies.
Project partners will install utility scale smart grid technologies within the Tenino community. This onsite lab serves as the centerpiece of TIER. Both the students and the community will use this pilot to learn about innovative energy technologies and grid modernization.
Tanya led formation of the project team and planning efforts which were completed in partnership with TIER, Puget Sound Energy, Burns & McDonnell, and the Pacific Northwest National Lab. The grid portion of the project was awarded grid modernization project funding through a combination of private capital and a Washington Department of Commerce Clean Energy Fund grant.
Curriculum
A K-12 educational and vocational curriculum designed to teach regional youth about renewable energy and prepare those interested for post-secondary programs like those at Centralia College. The curriculum will also give skilled energy workers transitioning to new careers from the Centralia coal plant a hands-on learning lab for new energy infrastructure and technologies.
Tanya engaged BEF's CE division to begin the process of designing a vocational training roadmap, which was completed in April 2018. The core TIER working group then presented their final work plan to early stakeholders, including regional utilities, clean technology vendors, educators, researchers, funders, and business and consumer groups to a standing room only kick off with regional partners engaged in helping the project secure $1.2 million in education and economic development funding for the project.

Community
An innovative and essential tool for household use (LEEP) will prepare and educate families and community members to live comfortably in a new energy landscape that will be increasingly dependant on low-emission, intermittent renewable energy generation.
LEEP is in the final phase of funding considerations for nearly $3 million dollars in research, development, and demonstration funding from a variety of public and private project funding partners. LEEP funding furthers field trial and commercialization of an in home energy controller that uses artificial intelligence and machine learning to balance the utility need for direct load control with energy users' need for privacy, comfort and engagement with programs that support their values and priorities.
Tanya developed the product concept, staffed and led product development, marketing, PR, and fundraising for LEEP.